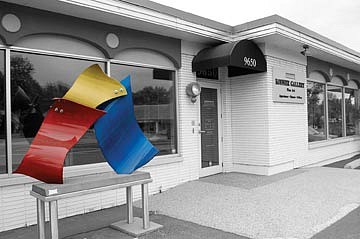 About Us
Almost 50 years ago, the late Martin Kodner of St. Louis founded and established the legacy of one of the nation's most trusted family names in the fine art services. Located in the heart of the City of Ladue, Kodner Gallery has specialized in fine American and European art of the nineteenth and twentieth centuries. Our expertise includes Impressionism, American Western, Regionalism, WPA, Ashcan Group, Hudson River as well as Post-War Modern and Contemporary paintings, drawings, rare prints and sculpture. In addition to presenting important exhibitions by established as well as up-and-coming artists, Kodner Gallery offers the highest level of service and consultation to collectors, corporations, and museums worldwide. Kodner Gallery provides a personal, private and confidential environment and offer the very best venue for those who wish to acquire or sell their works of art or estates. Other services include appraisal, restoration, conservation and framing consultation. Fine art is a wonderful way to diversify your valuable assets while simultaneously enjoying your investment. Whether you are just getting started, expanding your collection or considering selling your works of art, Kodner Gallery can assist you with confidence, quality and service.

CLICK HERE TO LEARN MORE ABOUT OUR SERVICES

Free Verbal Evaluations Daily
We are happy to help those seeking information about an artwork. Please call 800-993-4478 or email to inquire.


Appraisal Services
Kodner Gallery offers insurance and IRS appraisals for a fee to be determined per project. Please call 800-993-4478 or email to inquire.


Credentials:

Jonathan Kodner
Jonathan Kodner, President and Director of Kodner Gallery, is an internationally recognized consultant and dealer in the field of fine and rare art. Jonathan's expertise of French and American Impressionists, Masters of the Old West, Regionalists, 17th-20th Century American and European landscape, still life and genre, as well as Modern and Contemporary masters is widely known throughout the country and internationally.
After graduating from the Kansas City Art Institute in 1986, he began his career at the Missouri Historical Society as Exhibition Technician and then the Assistant Curator of Art. After several years in the institutional field, Jonathan joined his father in the gallery business, which Martin Kodner founded in 1971. Kodner became a member of The New England Appraisers Association while he worked alongside his father to build one of the most eclectic collections of fine art in the Midwest.
In 2001, Jonathan Kodner, alongside his father, participated in the Antiques Roadshow, when the Roadshow visited Saint Louis. His father Martin, appraised paintings and Jonathan appraised drawings and fine prints.

David Kodner
David earned a Bachelor of Arts degree from the University of Wisconsin Madison in 1994. He has been a member of the New England Appraisers Association since 1997 and is a current member of the Appraiser's Association of America. David has also successfully completed a 15-hour course and examination on the Uniform Standards of Professional Appraisal Practice (USPAP), the Congressionally-recognized set of appraisal standards promulgated by The Appraisal Foundation. David has been a partner and director of Kodner Gallery for approximately twenty years, and worked closely with his father, Martin Kodner, who was an original member of the AAA.
While much of David's gallery business is based in the buying, selling and valuation of fine art, he dedicates much of his time to outreach for many of the community's art institutions and charitable organizations. He has been a member of many organizations including, The Young Friends of the Saint Louis Art Museum, the Collections Advisory Committee of the Mercantile Library at The University of Missouri-Saint Louis, and the Arts and Education Council. David is also a member of the New England Appraisers Association.

OSCAR EDMUND BERNINGHAUS AND CHARLES FERDINAND WIMAR CATALOGING PROJECTS

Over forty years ago Martin Kodner of St. Louis, Missouri began a love affair with the works of the great German/American artist, Charles Ferdinand (Carl) Wimar (1828-1862) and the great American artist and native St. Louisan, Oscar Edmund Berninghaus (1874-1952). A member of the Appraisers Association of America as well as a listed expert on the artist, Kodner began the project of producing the first ever Charles Ferdinand Wimar and Oscar Edmund Berninghaus Cataloging Projects from the volumes of detailed information collected through the years.

Today, Martin Kodner's sons, Jonathan and David Kodner, owners of Kodner Gallery in St. Louis, Missouri are continuing this project. Through ongoing research, the Kodners are compiling data including biographical and documentary material (i.e. photographs, letters and correspondence), fine artwork (i.e. drawings, oil and watercolor/gouache paintings) and commercial material (i.e. advertisements, commission work, and illustrations) spanning the entire lifetime and oeuvre of the artist.

The cataloging projects will include an illustrated listing of known works from private and public collections worldwide as well as information and material obtained through public and private sources.

National and international solicitation is currently being conducted to obtain additional materials relating to Charles Ferdinand (Carl) Wimar and Oscar Edmund Berninghaus. Owners of works or materials relating to these artists should contact Jonathan or David Kodner, 800-993-4478. Funding for this project is made possible by Kodner Gallery.


Further Information About Kodner Gallery:

Sophisticated Living Magazine

St. Louis Post Dispatch

Kodner and Grayson

Kodner Gallery Art Therapy Program at Ranken Jordan