BIOGRAPHY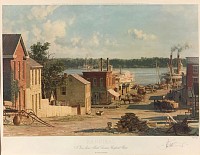 John Stobart (American b. 1929)
A marine painter of harbor scenes and ship portraits, John Stobart has devoted his career to showing the majestic beauty of sailing ships from a previous era. He also does some plein-air painting.

He was born in 1929 in Leicester, England and studied at the Derby College of art and at the Royal Academy School in London in the 1950s and then traveled by passenger-cargo vessel to his father's home in south Africa. This voyage sparked his interest in maritime subjects, something he pursued for more than fifty years.

In 1959, he moved to Canada where he earned a living by creating oil paintings of ships for shipping firms along the St. Lawrence River. Then in the mid 1960s, he shifted the focus of his career to historical paintings of sailing scenes. In 1965, Kennedy Galleries of Boston held his first solo exhibition, which brought him to the attention of New England collectors.

In 1988, his Stobart Foundation, funded from the profits of his publishing business for his prints, created fellowships to help art students ease the transition from student to professional fine artist. It also awards scholarships to students who excel in plein-air painting.