BIOGRAPHY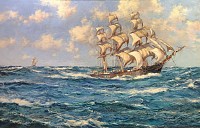 Montague Dawson, British (1890-1973)
Sea painter, Montague Dawson was born in Chiswick, England in 1890, the son of Charles Ernest Dawson and Florence Hope Dawson (nee Bithrey). His mother died in 1893, giving birth to her seventh child, also named Florence Hope. Dawson was the grandson of Henry Dawson and nephew of Henry Alfred Dawson, both landscape and marine artists of note.

Dawson began drawing as a child, and completed his first painting, a watercolor sunset, just after his fifth birthday. Dawson never attended art school, but took every opportunity of looking at paintings and absorbing the methods of the masters.

Early in his youth, the family moved to Southampton Water where Dawson enjoyed fishing, sailing, and watching the great ships of the world anchoring in the harbor.

Around 1910 Dawson joined a commercial art studio where he worked on posters and developed his skill of illustration. C. Napier Hemy RA, who lived at Falmouth, had a great influence on Dawson's career as an artist. Dawson used to visit him as a young naval officer during the Great War.

"After that," Dawson recalled, "there was never any question of my doing anything else apart from paint." Indeed, he was always able to live on money earned from his pictures; at the age of eight he sold one for two shillings and sixpence. "I thought I was made," he said.

Dawson joined the Royal Navy with the onset of the First World War and continued to paint. He became a regular contributor to the Sphere magazine with pictures and reconstructions of the war at sea. In 1918 when the German fleet surrendered, a whole issue of the periodical was devoted to his portrayal of that historic event.

Following the war he became a professional painter and illustrator and began to exhibit at the Royal Academy, although in latter years he contributed less frequently. His reputation grew steadily so that by the 1930's he was already firmly established among the leading marine painters of the day, with a steady output and increasingly important commissions. Queen Elizabeth, the Queen Mother, presented his painting of the Royal English Yacht Blue Bottle to the Duke of Edinburgh. American Presidential Collections have contained examples of Dawson's work.

Dawson's method of working was to make a preliminary study of his subject on oils, based on careful research, before beginning the larger version. His knowledge of the sea and ships, and his dedication to technical accuracy, combined to give him complete assurance that his work was as close to a truthful representation as he could make it. When he painted, he identified himself completely with the event. "You really are there", he said. " You can hear the sea." As he saw it, accuracy in seascape or landscape painting had little to do with photographic exactness. "But if the memory of how it looks is clear, that is what the painter has put down."

Dawson researched carefully for a painting and never knowingly left an inaccuracy uncorrected even for the sake of artistic effect. The rigging, for example, is painted with minutest care, not merely in physical detail, but also in the relative tension of the ropes and intricate shadows and patterns. He would often work quickly on a picture, completing in one session a work, which up until that point might have occupied many weeks. To him, marine painting combined the freedom of landscape painting with the disciplines of portraiture; the elements may be imaginatively painted but the ship must be a likeness both in detail and in character. "You must be quite certain that she is sailing with the wind in the proper quarter - if she is on port tack, you must make sure the sails are filled from the port tack."

His subjects ranged from recording the Battle of Trafalgar, moments from American War of Independence, the return of the CUTTY SARK, and very often the races between the tea clippers returning to London from China.