BIOGRAPHY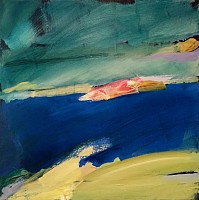 Sheppard Morose (American/St. Louis b. 1962)
As a former graphic designer for Fleishmand Hillard in St. Louis and VSA Partners in Chicago, she uses her design strengths to create bold, colorful paintings and original pigment prints. Her paintings at Kodner Gallery range from graphic abstracts to stylized florals. ​Her niche has been to work with designers, architects and homeowners to create interiors that uplift and engage those who pass through. Some colorful, modern installations stretch three stories high in downtown loft spaces, while other nature-inspired pieces promote wellness in health facilities.
Modern artists and designers Mies Van der Rohe, Ellsworth Kelly, Richard Diebenkorn, Henri Matisse, Pablo Picasso and Alexander Calder are her greatest influences.
Corporate Collections:
Buckingham Asset Management
Carrollton Bank
CatCo Inc.
CSI Select | Furniture, Flooring and Architectural Products
Delete Medical Spa - Phoenix/Boston
Growe Eisen Karlen
McCormack Baron Salazar
Mercy Health System
Scott Credit Union
Spellman Brady & Co.
SSM Cardinal Glennon Children's Medical Center
The Staenberg Group
652 Moderne Art Consultants
Private collections: USA, France
Experience:
2004 - present Fine artist
1993 - 2002 Graphic designer, Fleishman-Hillard. St. Louis, Missouri
Freelance designer
1990 - 1992 Graphic designer, VSA Partners. Chicago, Illinois
Education:
1988-1989 The School of the Art Institute of Chicago
Post Baccalaureate work
1981-1985 University of Illinois/Champaign-Urbana
Bachelor of Science, Communications