BIOGRAPHY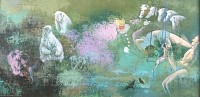 Stella Pearlmutter (American 1912-1993)
Active in St. Louis, Missouri in the 1960s and 1970s, Pearlmutter painted in an impressionist style.

Her husband Morris Pearlmutter was the founder of the St. Louis Jewish Light. They had two sons, Daniel and David. David Pearlmutter became an illustrator, graphic designer and screenplay writer.

She exhibited at the St. Louis Art Guild.

Some of her work indicates that she visited the island of Jamaica.